The Nescafe Dolce Gusto has finally hit Philippine shores, right on the heels of its release in the other Asian coffee-loving regions of Japan and Hong Kong. These adorable little gadgets promise to revolutionize the way caffeine junkies such as myself take their drug of choice, and to do it in style.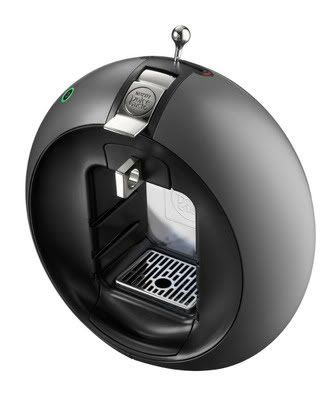 Who wouldn't want these cuties helping them start the day?
These babies are lean, mean, coffee-making machines. They're designed with the user's convenience and counter space in mind so they take up as little room as possible, much less than any espresso machine on the market. They're also made to be seen, so that they're much more at home on your breakfast island or table top than tucked away on a shelf in your kitchen. Something like a centerpiece you can eat, or milk… or… wait, I'm getting away from myself.
Anyway. Initially, only two models are available in the Philippines, the penguin-shaped Piccolo and the beautifully ovoid-shaped Circolo. Available over the next few weeks in selected SM Supermarkets and Hypermarkets, they're just in time for the holiday season. It makes a perfect gift for the coffee lover in your life. Well, anyone you're willing to drop P4,000 – P7,000 on, anyway.
Hot Chococino. You know you want one.
But its cost is really a small price to pay for the convenience of a perfect cup of coffee, made to your specifications, at all hours of the day. The Dolce Gusto is actually the most affordable brand of personal coffee maker of its kind (I'm looking at YOU, multi-colored chrome gadgets that cost more than 75% of my monthly salary). Even with the cost of the capsules, each ounce of coffee made by the Gusto is cheaper than the same amount from a coffee shop.
This gadget's great for people like me who just can't begin their day without coffee. Until I've had that first jolt of caffeine, I might as well still be asleep – seriously, I could sign contracts that would be void in a court of law on account of incapacity. That said, the machine makes a smaller amount of coffee than I'm used to in the mornings – about eight ounces, or a single-serve cup. But if you're having the same problem, brew two cups – it's easy enough, and still costs less than a cup of coffee from elsewhere. Best of all, you can have it in your jammies.
You might not have to resort to brewing twice, though. At the launch, the coffee served straight from the Dolce Gusto Piccolo machine had a considerable kick. It also had just the right amount of sweetness to it, so you know that the rush you're getting is from the caffeine, not the sugar.
Of course, I'm a little concerned about the fact that the capsules are non-biodegradable. Understandably, it must be pretty hard to find a way to keep freshly-ground Arabica beans and cream as fresh as the day they were packed, but really, I expected more from a European company. But I was told that the company's working on that and plan to come up with a two pronged attack – a better way to package their capsule contents, and a way to recycle the used ones. I'm hoping they're also planning for capsule collection, like TetraPak does with its old stuff. So that's a little bit of eco-guilt allayed for now.
The flavor capsules come in pairs: one for the beans and another for the milk/cream. The coffee ones come in 5 flavors: Cappucino (a little kick with lots of froth), Caffe Lungo (smooth intense coffee), Mocha (rich coffee with a delightful chocolate taste), Chococino (devilishly creamy hot chocolate) and Latte Machiatto (stylish coffee with a hint of vanilla).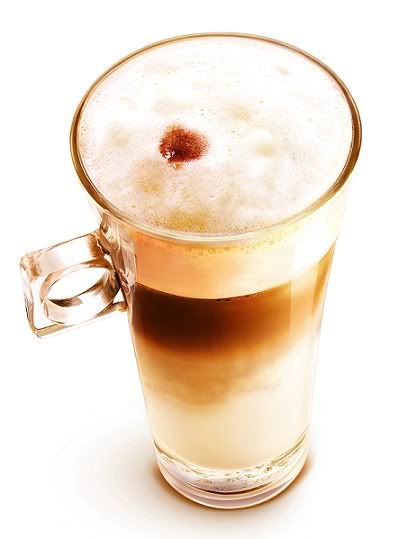 You can make this lovely drink and much more, all by yourself, without having to fork over P100+ for every cup.
While there are only 5 flavor variants, you can play around with them, making them stronger or more dilute, switching packets, and the like. Besides, it's not like you'll want to try something every day. Most people I know have one to three drinks that they absolutely love, and stick to that. But if you're looking for more variety, Nescafe has promised to bring their entire of flavor packs to the local market soon. The new line would include cold-mix drinks and even green tea.
So there – these new toys are pretty, and they're very good value for money. The Piccolo and the Circolo do make a great-tasting cup of coffee, with as nice a head of milky foam as I have ever seen in brews from a coffee shop. It takes less than a minute to brew a cup, with no mess, so there's no cleanup after. The machine itself is a breeze to maintain. There's even a hotline you can call if you're having problems with it, and a place to take your Dolce Gusto for repairs if ever it needs them. But I doubt that you'd need it – the manager I spoke with said his machine's running fine after 6 years, and his was one of the earliest models.
So, coffee aficionados, if you've ever wanted a special little helper to help you get that perfect fix, this is what you need. Come and get them at SM Hypermarket Mall of Asia, Pasig, and North Edsa as well as SM Supermarket stores in Megamall A, Megamall B, Makati and North Edsa. Good while supplies last! :)
It's heeeeere!