As much as I love my LJ icons and the cuteness of the emoticons, I have moved my blog over to
In other news, Best Food Forward, a benefit summer food fair that made its debut in 2011, wasn't initially meant to be an annual event. But because there was such a demand for it, the event returns for another round this year, causing ripples of anticipation through the foodie community.
A few weeks ago, its organizers invited a few bloggers to sample a sneak peek of a few of the offerings that would some treats that would be available - a unique kind of appetizer.

Nuffnang bloggers, chilling out before the tasting session got underway.
(
Follow me through the rabbit hole for a glimpse of the great nomz
Collapse
)
For more information, check out Best Food Forward's website :
Sorry I've been MIA so long! Because of a mixup with my old domain name, I've decided to rehash buhaykuneho. Miffed as I might be about being ousted from my comfy web burrow, I'm moving to a new home on the net, and this time, I have friends! *evil eyebrow wiggle* Watch out for Buhaykuneho.net (or, in my head, buhaykuneho 2.0).
Current Mood:

chipper
A while ago a close family friend asked me why I hadn't put up a wish list for the holidays yet. Well, it's because I haven't really been thinking of the holidays, past making cards and little trinkets and offering to wrap gifts for people. Just sayin', I'm only giving out gifts in kind this year.
But there are still things I do want this year, and in the spirit of tradition, I'll be putting them up. Just so you know, person reading, writing me a long, heartfelt letter or making me a card will be good, too.
Holiday wish list, 2011:
1.
A Stampin' Up Owl Punch
. I'm loving this punch, it makes adorable, customizable owls that are just the right size for card-making. I don't normally use punches, especially since I a) like to freehand my paper piecing items, and b) have a Slice. But this punch is SO cute. And the company discontinues its products, so I might not find it again if I wait for next Christmas.
Find it
here
.
2.
A seeing stone
. These are stones that look like discs and are naturally hollowed out in the middle. When I say naturally hollow, I mean that they've been abraded and roughed up until their center just got worn away. They're supposed to let you see the world beyond the veil, or, as Pinoys say,
ang mundo ng mga engkanto
. I want it. So, if you're walking around and see a flat stone with a natural hole, could you please pick it up and give it to me?
3.
A Lasting Impressions gift check
. Yes, it's not very practical, but I say what feeds the soul is still worth spending on.
4.
Peebo dimensional paints, glossy
. Every National Bookstore craft aisle has them.
5.
Your grandmother's recipes.
No, seriously. If you have a favorite recipe that your mom or lola or whomever makes and you can wrangle the recipe from them (preferably in detail, since I have no idea how it's supposed to taste or look), I would LOVE that.
6.
31 Thank You Cards by Kristina Werner and two more people.
I've been an avid follower of her videos on card-making since 2008, and I love her stuff. The link to the awesome downloadable lesson is
here
.
7.
An external hard drive for long-term storage.
The larger the better. :)
And in the spirit of giving, I'd like to ask if you'd like to get a handmade card. Send me your mailing address in a private message, and I'll send you one. You also get to select a small gift. A story (real, or made up), or a recipe of my own. :)
Happy holidays!
Despite the fact that I have other posts in the works, I'm putting up a holiday wishlist first.
Current Mood:

amused
NOT FOR THE SENSITIVE. You have been warned.

Disturbing Halloween thought - you'd probably put part of a person in your mouth (TO EAT, dammit, get your mind out of the gutter) more often than you realize. Especially if you live in a country like mine and have a particular hankering for carendia food. (karenderia, karinderia... anyone know the correct Filipino spelling?)

My family can regale you for hours with horror stories of people eating people parts and people by-products. Our little group is made up of a teacher, National Geographic fans, people who travel all over the world, and people who are generally very social, so there's a lot of first-hand info, too. But the Disturbing Thought was solidified in my mind when I was helping prepare Sunday lunch.

So I'm finely dicing onions, and the knife slips. I barely feel it make contact with my finger, and finish working on the piece I'm dealing with. As soon as I'm done I check my left hand and hello, I'd shaved off a considerable bit off the tip of my finger. It wasn't bleeding and it didn't hurt, so it wasn't serious, but I couldn't tell where the missing bit was. It probably looked like a sliver of onion, one among the dozens on a black chopping board surrounded by onion and tomato juices, translucent and hard to pick out.

For a second or two, I considered just dumping the batch in the bowl. After all, who would know? Also, it wasn't as if people don't occasionally chew their nails or hair or what have you. And to top it all off, I happen make sure I have immaculately clean hands when handling food.

Of course I didn't do it. I dumped that batch of chopped onions, thankfully small, and started on another.

But think about it. Do you actually think, even in a world where professional chefs cook every single meal of your life (and I seriously doubt they do, unless you're the president of some large country, a drug lord, or a superstar), that nobody's ever nicked their hand and failed to notice? That somehow, bits of skin, flesh, nail, and hair aren't a part of your daily diet?

If every chocolate bar has a few insect parts per 100 ounces, in a life where you eat food prepared by total strangers, do you ever wonder who you've tasted?
Current Music:

Bulletproof by La Roux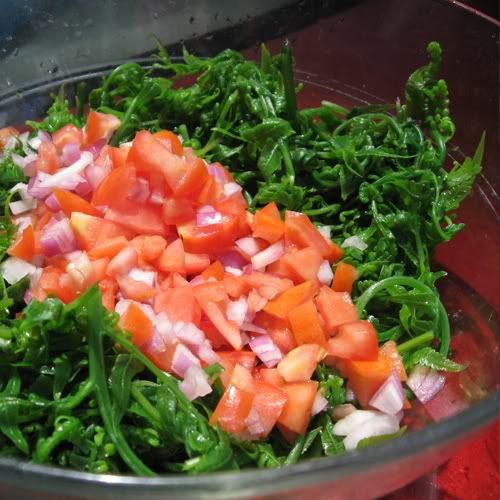 [pako salad, from the Ilocos region where I'm from, is leafy, leafy, love. All this batch is missing is the bagnet and bagoong.]
(
But even if I'd been documenting dishes since the 'net was born, I think I'd still have an enthusiasm for cataloging and sharing everything about them – especially Filipino food.
Collapse
)
Why does a newbie blogger think that she can be Sooo Pinoy's Ultimate Food Blogger? Exactly because I'm "new". I've been blogging since 2000, but have recently repurposed my blog and am now a new voice in a community that seems to have tried everything, seen everything, and has begun to adopt a been-there-done-that manner. I'm not jaded yet, and am enthusiastic and curious, which means I'll try anything and know I'll be awed by it.
Current Mood:

hungry
The Nescafe Dolce Gusto has finally hit Philippine shores, right on the heels of its release in the other Asian coffee-loving regions of Japan and Hong Kong. These adorable little gadgets promise to revolutionize the way caffeine junkies such as myself take their drug of choice, and to do it in style.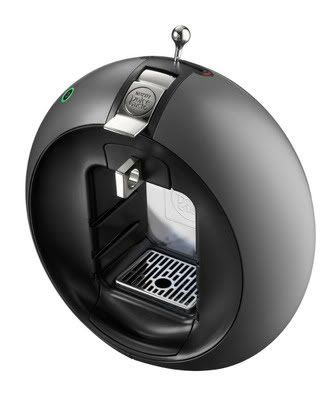 Who wouldn't want these cuties helping them start the day?
(
I like these babies so much I event went to the launch!
Collapse
)
It's heeeeere!
Current Mood:

accomplished


Do you remember back when we were chatting and I told you I was having major writer's block? You said, "Why do you write a blog, anyway? Who are you writing for?" You know, you are so right. I used to blog because it was a way to keep in touch with people - but hey, now, there's Facebook and Twitter and rabid e-mailing. I used to write for you, and the other girls ... especially when we all started to get busy and we hardly ever hung out anymore like we used to. Just as a way of chatting with you. One-sided, I know, but it kinda worked.

So there. I guess I write for all the friends I don't see much, and the friends I will make, and the random Netizen who knows what it is like to want a connection with someone who is as passionate about living as they are.

So... I'm changing the tone of the blog. :) It'll be a string of letters to people whom I've known, written in the hope that they'll see it someday, and maybe someone else who can relate with the stuff I'm saying will too.

Sya, thanks, dear.

bb


EDIT: Three months later, I realized that it isn't working. :( Oh well.
Dear Ayns,
Current Mood:

chipper


Paranoia aside, lunch was an interesting affair, most of which came from standing in the actual kitchen where the food was being cooked and being able to hover over what the cooks were doing while my friend placed our order. The kitchen looked like something you'd expect a restaurant to have – not exactly the turo-turo type of kitchen I grew up with. The tiled walls and floors are clean, and four men labored over huge stainless work areas and equally huge, bubbling stainless steel pots. A woman sat behind a little desk by the door and took our order while the guys asked how my friend had been. (They weren't being overly friendly, they knew her as a regular customer because her office used to be located at the DPC building.)

We had deep-fried pork belly and pork humba, with pancit bihon on the side, and I was able to watch the cook take a slab of pale salty pork belly that had been boiled till tender and then drained, slice it, and drop the slices into the hissing pot of oil. Everything else had been prepared sometime earlier that day.

The food was pretty good, especially the sweet-salty anise-laced humba. The meat practically slid off the bones, and the jelly-like fat was rich and creamy and delicious. Dieters and people who are watching out for their heart health should steer clear, though I bet cheating a little bit would be worth it.

The pork belly was not spectacular, but the dipping sauce was. My companion, vinegar enthusiast that she is, suspects that they source special type of vinegar from the province. I hear that they have this interesting take on pickled labanos – instead of soaking it in pickling liquid before it's fished out and served to diners, the labanos would be peeled and sliced while you waited. The slices would then be placed into a bowl and a special vinegar and soy sauce mixture would be ladled in. The result would be a tangy, flavorful pickle with a lot of crunch and freshness.

Sadly, I didn't have a camera with me today, so no pictures. But I know I'll be coming back to Tinago sometime soon to sample more of that home-cooked (well, home-cooked tasting, at least) pancit, and I will so make sure to take a whole bunch of shots of this unusual eatery.
On the way to a banking errand, I was treated to a very good lunch in a highly unusual canteen. The canteen is called Tinago (literally hidden away) and it's located near the DPC building at the southern end of Pasong Tamo extension. I'm sorry I can't give you better directions than that, but it literally was so hidden that as we made our way to the teeny-tiny kitchen cum serving area, that for a moment I feared that I was being led somewhere less public to be whacked in the head and left there.